MiFi 2 Novatel Wireless Touch Screen Mobile Hotspot is the world's first intelligent 4G LTE mobile hotspot with a touchscreen display and the most feature rich intelligent mobile hotspot available. With brilliant interactive touchscreen, 11 hour battery and 4G LTE connectivity for up to 10 devices for the best user experience ever imagined, MiFi 2 becomes the 4G shinning star of Mobile WiFi Hotspot.

This next generation 4G LTE MiFi Liberate's new iconic design and leap-forward innovation take Novatel Wireless' industry leading user experience to new levels of ease and functionality. MiFi 2's vibrant, feature-rich touchscreen makes it easier than ever to connect up to 10 Wi-Fi enabled devices to fast 4G LTE Internet.
You can check data usage, manage connected devices, change settings, enable MiFi Media Center and more…directly on the touchscreen. With up to 11 hours of battery life and the industry's most advanced security features, MiFi 2 lets you connect with confidence and power through your day.
Applications:
* MiFi 2 Mobile Hotspot could connect up to 10 WiFi-enabled devcies to share WiFi network.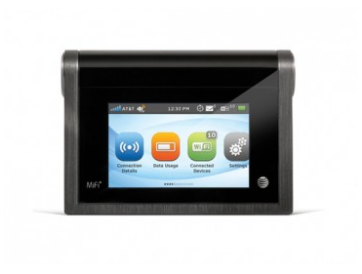 * MiFi 2 Mobile Hotspot works for browsing, Email, Gaming, Downloads etc..
* With Slim and pocket size, users could put freedom at fingertips.
* MiFi 2 Mobile Hotspot could help users to share wireless network anytime and anywhere.